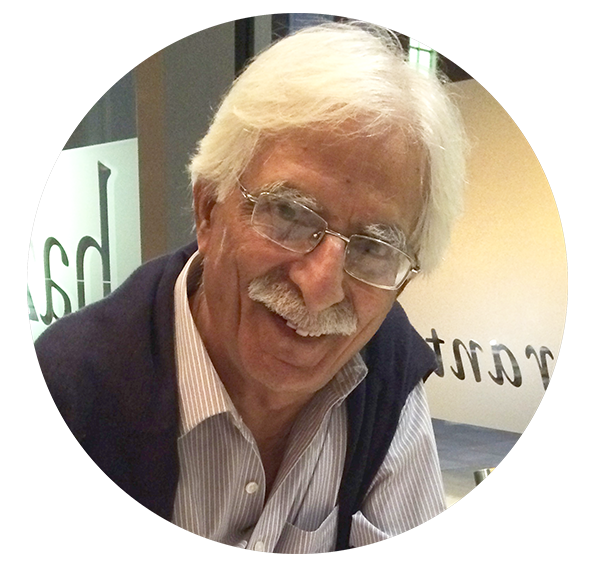 Rasheed Butt, a world renowned calligrapher, started Calligraphy in 1961. He says about himself, "I am fascinated by the timeless and captivating message of the Holly Qur'an and Sunnah, It gives me much pride to know that my hand is an instrument in creating delightful expression of this Divine message. I feel honoured that the Almighty has bestowed upon me this opportunity to spread this Divine message to audiences worldwide. My work in Islamic Calligraphy is my fate and destiny to which I have dedicated my life." He has exhibited his work all over the globe and many of his Calligraphy masterpieces feature in museums, private collections and many monuments including the Pakistani Senate, Al-Furqan Foundation (UK), Agha Khan medical college and hospital and Mecca Gate, Saudi Arabia. Butt has been commissioned by the Prime Minister of Pakistan to create inimitable works of Islamic Calligraphy which have been presented to more than twenty heads of state in an official capacity.
Butt's achievements were recognised by His Highness Sheikh Dr. Sultan Bin Mohammed Al Qasimi of Sharjah who presented him lifetime achievement award in 2014 and by the President of Pakistan who presented him with the "Pride of Performance" award in 1989 which is considered the highest civil award in Pakistan. He was chosen as an International jury member for the International Calligraphy Competition organised by the IRCICA (Turkey) and also as a jury member for the International Calligraphy competition organised by the Algerian Government in 2009.
Another significant characteristic of Rasheed Butt's works is the serenading illumination. He is the first person in Pakistan who used illuminations in his work. Illumination, again an art sadly lost in the sands of time, at the hands of chilling complacence and continuing disinterestedness gradually slipping into oblivion is redeemed by Butt's own daughter Saira Butt.
Butt has worked to promote the art of Islamic Calligraphy and has many students from around the world. He first taught calligraphy on national television in 1991-1994 when he hosted his own weekly programme. He also has been the curator of national and international Calligraphy exhibitions. Butt continues to teach Islamic Calligraphy as a lecturer at the National College of Art, Fatima Jinnah Women's University and International Islamic University, Islamabad.
Awards
Lifetime achievement award presented by His Highness Sheikh Dr. Sultan Bin Mohammed Al Qasimi of Sharjah, 2014, UAE
Pride of Performance Award from President of Pakistan, 1989, Islamabad, Pakistan
Notable Collections
His Majesty Abdullah bin Abdul Aziz Al Saud, King of Saudi Arabia
His Highness Sheikh Sabah Al-Ahmad Al-Jaber Al Sabah, Amir of the State of Kuwait.
Sheikh Mohammad Bin Rashid Al-Maktoum, Prime Minister of United Arab Emirates.
R.H. Crown Prince of Saudi Arabia.
E. Sh. Ahmad Zaki Yamani
E. Dr. Ekmeleddin Ihsanoglu (Secretary General O.I.C).
E. Dr. Parviz Davoudi, First Vice President of the Islamic Republic of Iran.
Susilo Bambang Yudhoyono, President of Indonesia.
Prince Muhammad Bin Issa Al Khalifa, Commander National Guards, Bahrain.
E. Mahathir Mohammed, former Prime Minister of Malaysia.
E. Dr. Badawi, Prime Minister of Malaysia.
R.H. Hassanal Bolkiah Mu'izzaddin Waddaulah, Sultan of Brunei.
Mr Hamid Karzai President of the Islamic Republic of Afghanistan.
Mr Shaukat Aziz, former Prime Minister of Pakistan.
Mr Pervez Musharraf, President of Pakistan.
Bait-ul-Quran, Bahrain
Ackland Museum, North Carolina,USA
Notable Exhibitions
| | |
| --- | --- |
| 2018 | Exhibition in Kazan Kremlin Museum-Reserve, Tataristan, Russia |
| 2017 | Travelling exhibition, "From Pakistan to China, 'From a Scroll to the Book', Shanghai University – Shanghai, Peace Museum – Beijing, China. |
| 2014 | International Islamic Calligraphy Exhibition, Sharjah |
| 2010 | International Calligraphy Exhibition organised by ECO, Baku, Tajikistan |
| 2010 | International Exhibition of Calligraphy, Tehran and Mashhad, Iran |
| 2010 | International Exhibition of Calligraphy, Abu Dhabi |
| 2010 | International Exhibition of Calligraphy Biennial, Sharjah |
| 2010 | International Exhibition of Calligraphy, Algeria |
| 2010 | Jury Member,  Kuwait National Competition of Calligraphy, Kuwait |
| 2010 | Exhibition in Shakespeare Museum, UK |
| 2009 | International Exhibition of Calligraphy, Algiers, Algeria |
| 2009 | Jury member for the International Calligraphy Competition, Algiers, Algeria |
| 2008 | IslamExpo, Great Olympia Hall, London |
| 2008 | National Library, Tunis Tunisia |
| 2007 | Curator of National Calligraphy Exhibition at National Art Gallery Inaugurated by President of Pakistan, Islamabad, Pakistan |
| 2006 | International Exhibition by Five leading Calligraphers of the World, Masjid Al-Kabeer, Kuwait |
| 2005 | IslamExpo, Alexandra Palace, London, UK |
| 2005 | Convention Centre, Kuala Lumpur, Malaysia |
| 2005 | Hilton Hotel, Houston, USA |
| 2004 | Pakistan Embassy, Washington D.C., USA |
| 2003 | Sharjah Art Museum, Sharjah, UAE |
| 2002 | Kufa Gallery, London, UK |
| 2002 | October Gallery, London, UK |
| 2002 | Errum Art Gallery, London, UK |
| 2002 | Ackland Museum, North Carolina, USA |
| 2001 | Sharjah Museum (International Exhibition), Sharjah, UAE |
| 1997 | 1st International Calligraphy Festival, Tehran, Iran |
| 1997 | Art Connoisseur, London, UK |
| 1996 | Jamia, Singapore |
| 1995 | Waltham Forest College, London, UK |
| 1995 | Al Furqan Foundation, Wimbledon, London, UK |
| 1994 | Barber Institute of Fine Arts, Birmingham, UK |
| 1994 | Marriott Hotel, Islamabad, Pakistan |
| 1990 | Birmingham Central Cathedral, Birmingham, UK |
| 1988 | National Art Gallery, Kuala Lumpur, Malaysia |
| 1988 | 1st Intl. Calligraphy Festival, Saddam Art Centre, Baghdad, Iraq |
| 1987 | Oriental Museum, Durham, UK |
| 1986 | Urdu Markaz, London (UK) |
| 1984 | National Art Gallery, Islamabad, Pakistan |
| 1983 | Liaqat Memorial Hall, Rawalpindi, Pakistan |
| 1978 | Punjab Arts Council, Lahore, Pakistan |
| 1977 | Punjab Arts Council, Lahore, Pakistan |